60 days Until Into The Box
We are only 2 months away from the Into The Box 2015 conference (more info)
I want to congratulate the Trivia winners, Daniel, Eric and Dan, who received as prize a 40% discount for the Into The Box 2015 conference on May 12th, 2015 - 1 day before dev.Objective
Thanks to all participants. Don't forget to buy your ticket in time.
This week's feature speaker is: Joel Watson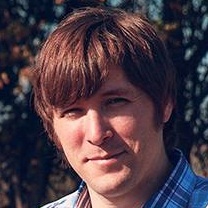 Joel Watson
Joel Watson has been working for the past eight years in website design and development and loves exploring web technologies of all sorts. When he's not coding, Joel enjoys spending time with his wife and daughters, eating barbeque, playing guitar, and watching cheesy sci-fi and anime.
Q & A with Joel
What made you want to speak at Into The Box 2015?
During my career in web development, I've been blessed to receive help and guidance from a lot of other developers. I think the best way of saying "thanks" is to do the same for others and contribute back to the community. Plus, being able to participate in things like Into the Box is a great way to meet new people and network with other developers.
What does web development mean to you?
Development is my way of self-expression. I am daily amazed at what can be done with web technologies, and I find a significant amount of personal fulfillment in being able to build something that other people find useful and beneficial.
Anything you want to experience during the conference?
I want to learn a lot! Conferences are a great time to be exposed to different ideas, not only by attending sessions, but also by networking with other developers. I want to come away with a few things I never knew before. Speakers and attendees, I'm looking at you!
What advice would you give to your younger self, knowing what you know now?
Get started earlier, be humble, and never be satisfied that you've "learned enough." There is always someone out there (probably a lot of people!) who knows more than you do...seek them out and learn from them!!
This year's lineup of speakers has lots of quality, what other session(s) are you looking forward to attending?
I'm really excited about the CommandBox sessions, as well as the session about Vagrant.
Joel's Sessions
Monitoring and Tracking Your Web Applications
Come discover all the necessary tools and processes to monitor and track the performance of your modern web applications.
Real Life ContentBox Modular CMS
We will be applying ContentBox Modular CMS to real-life requirements and creating an application from scratch. We will go through the development process, creating modules and even deploying our application to the cloud.
Killing Shark-Riding Dinosaurs with ORM
We have gone through the pain and frustrations that come with maturing with a technology such as ORM powered by Hibernate. This advanced session will cover on how to leverage both ColdFusion and ORM to start creating amazing applications that will be as lethal as a dinosaur riding a shark with an Uzi. We will cover ORM session management, virtual service layers, dynamic finders, dynamic counters and an enhanced Hibernate Criteria builder for ColdFusion to create easy and programmatic HQL queries.
Customizing ContentBox with Themes, Widgets, and Modules, Oh My!
Learn to customize ContentBox as we demonstrate custom layout, widget, and module creation/installation features. Through an exploration of elements that I have created for my own ContentBox installs you will gain an understanding of how you can fully customize ContentBox for your own use.