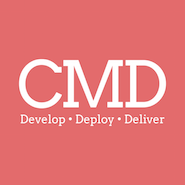 We are very delighted to announce that CMD, are part of the Into The Box Family and will be sponsoring this June in Minneapolis. So thank you so much to CMD for their addition and lovely prescence.
CMD is a web and mobile application consultancy. We are here to help you do three things:

Develop awesome applications.
Deploy resilient and secure services.
Deliver results to your clients and customers.

DEVELOP
Rest assured, if you can dream it, we can build it. Our world-class development team has experience in creating large, complex applications, whether they be content management, e-commerce, blogging software, and anything and everything in between.

DEPLOY
When your application is ready to go live, we can give it a good home. Whether you are considering cloud-based hosting, standalone servers, or VPSs, we are here to provide you with expert advice and guidance.

DELIVER
Your application doesn't have to do all the work. We are also here to make sure that the content and functionality are designed to deliver. From CDNs, to ensuring your site is seen by the right people, to crafting just the right marketing copy, we have the skills and resources to make sure your services get the attention they deserve. We have over 20 years of experience with web technologies, and we are experts in ColdFusion, Lucee and NodeJS. We are here to help, so when you're ready visit us at: http://charliemikedelta.com.