Meet Esmeralda Acevedo - Speaker Interview for ITB 2017
I met Esmeralda 17 years ago, and enjoyed sharing an office, and shared the adventure working with the world wide web. She is a great designer, and a even better person, and I'm glad to see Esmeralda breaking out and presenting at Into the Box, as well as co-leading the ContentBox Workshop. Let's learn a little more about Esmeralda.
Esmeralda Acevedo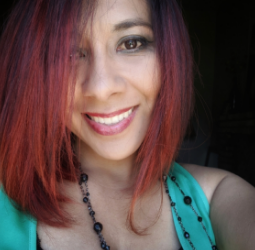 I am a Software Consultant for Ortus Solutions, Corp. My professional journey began about 17 years ago as a graphic/web designer, in the time of tables and frames. After graduating from California State University with a major in Art and a minor in Computer Science, I was hired to work along CFML developers. Although I was mainly involved in the design aspect of the projects, I gradually became more involved in assisting the programming team.
Eventually, I returned to school to complete a technical degree, with an emphasis in software development. Now, in addition to my experience with graphic design tools, such as Photoshop, Illustrator, Fireworks, Indesign, etc., I have added application development tools, which include CFML, MySQL, Javascript, CSS, Bootstrap, Coldfusion, Coldbox, ContentBox to the list.
Away from the computer, I have a love for the outdoors. As John Muir said, " Keep close to Nature's heart... and break clear away, once in awhile, and climb a mountain or spend a week in the woods. Wash your spirit clean." Besides washing the spirit clean, nature clears my mind to solve programming issues or inspires me to create designs.
</div>

Sessions at Into The Box 2017
Developing ContentBox Themes
Themes are new in ContentBox 3, getting big updates from Layouts in earlier versions.
Components of a Theme
Learn about the different components of a Theme, and how to customize and use them. Layouts, Views, Templates, Widgets & Modules.
Themes not Layouts
Themes is our new mantra. We have transitioned layouts to what we now call ContentBox Themes. They have been revamped to support ColdBox 4.
New Theme.cfc
The theme descriptor CFC is now named Theme.cfc. Backwards compatibility still remains, but now the new descriptor will provide a nice way for editors and tools to target.
Theme Setting Groups + Help
You can now create theme setting groups in the theme descriptor Theme.cfc and the new admin UI will present them in a categorized and ordered format. This is a great way to visualize theme settings. You now have the ability to add notes and help in the form of modals, all built from the Theme.cfc
Theme Modules
Themes can now include ContentBox modules in a new folder convention called modules. This allows you to ship your theme with 1 or a billion modules.
New Theme Events
The theme life-cycle now presents several new events: cbadmin_preThemeSettingsSave, cbadmin_postThemeSettingsSave, cbadmin_onThemeSettings, cbadmin_onThemeInfo
And as much as we can fit into the session. If you are looking for more in depth ContentBox learning. Sign up for the Free Content Workshop on Wednesday the 26th of April.
---
Speaker Questions
We asked Esmeralda a few questions, here are his answers.
What made you want to speak at ITB 2017?
I want to share my knowledge and tips as a designer, in developing themes for ContentBox.
Anything in particular that you want to experience during the conference?
I would like to learn and gain inspiration from the software engineers, developers and designers who will be attending the conference.
Which Speaker at ITB do you want to sit down with and ask a few questions?
John Farrar
Tell us a little more about your Sessions at ITB
We have transitioned layouts to what we now call ContentBox Themes. The session will cover how to use and customize different components of a Theme, which are Layouts, Views, Templates, Widgets and Modules.
We have also improved the settings for themes, to allow groupings, and new types of form elements, like color pickers, and we're adding more all the time. Now each theme setting can have inline help, as well as supporting modal for more detailed information for the themes.
In addition, we will demonstrate how we use automated build pipelines to package up css and js, to keep your theme light and snappy.
Why should an Attendee not miss your session?
Developing themes is a vital piece of any website design, with or without a CMS. Reading documentation and blog posts are great, but nothing can compare to a live in-person session, walking you through the ins and outs of themes. We have built all the core official themes, and know themes better than anyone else. If you are going to be designing, or even just customizing themes, this is the session for you.
What's your favorite *Box Product and Why?
It is a combination. Both ColdBox and ContentBox are my favorite Box products because the ease to build applications and extend it via modules.
Tell us something random about yourself:
I love to explore the outdoors.
---
Esmeralda, Thanks for taking the time to answer these questions!
Early bird ticket pricing still available - don't miss out.
Into The Box
ColdFusion & Java, Redefined. Into the Box is a yearly web technologies and software craftsmanship conference based around all Box products from Ortus Solutions.
Categories
Recent Entries
Subscribe
Archives